Getting a room redone seems to take me months, or years. At the rate that I am going our house will be completely redone about the same time we pay off our mortgage. The first room that I managed to finish was the
bathroom
. Now I have worked on other rooms and other stuff in the mean time. Such as the dining room, it may be my thorn in my side. I will greatly rejoice when that room is finished. Back to the porch / side entrance / mudroom, because it is actually finished. :) Now, I'm not completely sure what to call this room. You see it is an enclosed porch, which happens to also be the entrance that we mainly use, and we use it as a mudroom. We usually refer to it as the porch though, so that it what I will call it here.
Here are the before shots.
As you can see, the porch was a catch-all for lots of stuff. I showed Gerrit these pictures and his response was, "Is that really what it looked like?" Uh, yeah.
The porch was a pretty easy makeover really. It took me a total of two or three days to get it done. Those days just happened to be seven months apart. I did the bulk of the work on this room way back at the end of September. It all started with a little inspiration. I had a larger antique American flag that I wanted to hang somewhere and leftover yellow paint from painting the bathroom. Thus my inspiration picture.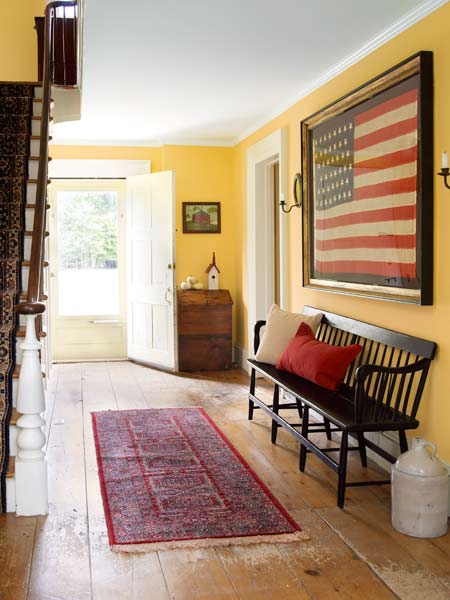 I found this picture on
This Old House
. I used my flag, which happens to be an antique 48 star flag (sorry Alaska and Hawaii, no offense to you) that I purchased at an auction for $20. I actually got it for Gerrit a while back, but we hadn't done anything with it yet. It now covers that top of the window which connects to the bathroom.
Next, came painting. Removed the wallpaper border and added a couple layers of paint to the wall under the windows. Left the old siding walls as they were. Just cleaned them up a little. I actually like the old siding just the way it is.
Then I added some little touches to the room:
A simple string of lights about the ceiling on one side. This adds a little extra light when needed. The porch area only has one other light for the whole area. Originally I had a more elaborate plan to make some hanging lights, but Gerrit suggested just using Christmas lights that we already had. Sometimes simpler is better.
Put a wooden drying rack against the wall for any wet clothes.
Added a metal tub ($5 at a second hand store) for shoe storage and a tray with rocks for wet shoes. Need to add more shoe storage though, cause this doesn't contain them all.

Put up new coat hooks, a decorative hook for leashes, and a basket to hold miscellaneous items. This may be my favorite part of the the room. I also found this second hand for like $1 and spray painted it red. This basket is actually for Gerrit to put keys, wallet, and such in. Just trying to avoid playing the where is my ................. (fill in the blank) game. He says that I can't change his ways though. Let me also add that the owl hook is actually made from re-purposed materials found after Hurricane Katrina. Gerrit bought it while he was in New Orleans last year.

Hung our "Animal Rescue" sign. Let me note that we don't actually have an animal rescue in our house, it just feels that way sometimes with two cats and two dogs that are all rescue animals. Actually, my brother made this for us as a Christmas gift. I don't dare hang it outside, we could end up with more pets.

I also changed out the knobs on the cabinets and added a few decorative pieces to the window ledge. Side note, this window is one of the things that I loved about the house when we first looked at it. I like those old details.

And lastly was the bench. I actually finished everything else on the porch in two days. Then several months later I finished the bench, which was the finishing touch. This was actually a side table thing that I got at an auction for $5! I painted it with the same yellow as the walls. Spray painted the hardware and bottom of it with an oil rubbed bronze. Added some legs that I made from scraps of wood that I spray painted the same oil rubbed bronze. Made a simple cushion for it, and that was it. It is cat approved! They actually think it is a new bed for them. I've already cleaned a good deal of hair off of it, and that is why I made it so that it could be removed and washed.



And there it is, the made-over porch. A little cleaning, paint, and decorative touches make a big difference.